Top Shelf Presents Paul Rodriguez Comedy Show (Day Two)
Doors:

4:00 pm

/
Show: 5:00 pm
About This Event
Top Shelf Presents Paul Rodriguez Comedy Show (Day Two)
THE HISTORIC LOBO THEATER is excited to welcome one of the funniest shows to Albuquerque!
Featuring Headliner Paul Rodriguez we have a variety of great comedy acts ready to entertain all night long!
Doors open at 6pm | Tickets are ONLY $40 for General Admission | $45 for General Admission w/meet and greet and VIP Tables Available for ONLY $200 | This event is 21+ and Over
 Food/Drinks in the Lobby
---
Paul Rodriguez Headliner Is one of the original "Latin King of Comedy". Growing up in east LA Paul went to the military and when he got out he gained an interest in comedy. After he had his break in comedy at "The Comedy Store" he broke out in the comedy world also in Film and TV. Paul is well known for his charity and helping his community in various ways.  Paul's work ethic and constantly evolving has made him a mainstay in the latin comedy world. Gracie Armijo Gracie has been in the comedy scene in California for many years. She is the first women to be on a card with the Latin Kings of Comedy. She is known for her podcast "Going Nuts". Working week in and week out booking shows at the "Laugh Factory" and around the Southwest has helped her make her imprint on the female comedy world. She has grown a love for Albuquerque and has most recently been here with Mr. Joey Medina. Paul Panas Native to Albuquerque Paul fell into comedy. After running restaurants and being a barber he never thought of this life. Always making family and friends laugh he somehow ended up getting put on a card with Latin King of Comedy Paul Rodriguez. In front of 5,000 people he shined. After he made movies with actors like John Travolta and Chris rock. He played a role in "The Longest" as well. Today he promotes shows and sells his amazing "Hook it Up 505" salsa. April Thomas April brings along her unique viewpoint every time she steps onstage. Whether it's discussing her childhood, navigating modern life, or how to tackle relationships, she does it all through the experience of having grown up in the southwest.  Along with opening for Joey Medina, she's performed for all types of audiences in comedy clubs and theaters. Dwayne James (Host) "DJ" had a long career with the Corrections Dept in NM. After that venture ended he burst into the Tmobile scene being one of the best business account salesman and becoming a manager after only 5 months. His work ethic and drive and love for comedy led to him quitting his new career to pursue his dreams of cooking, growing, and comedy. He played a role in the show with Mr. Joey Medina and has now gotten into the realm of stand up and promoting the shows with his company Top Shelf. Always the life of the party and the one that makes everyone laugh he by chance fell into the this world and along with the Latin Kings. Bringing the light of this brand of comedy to his generation and restoring the comedy scene in New Mexico is his goal.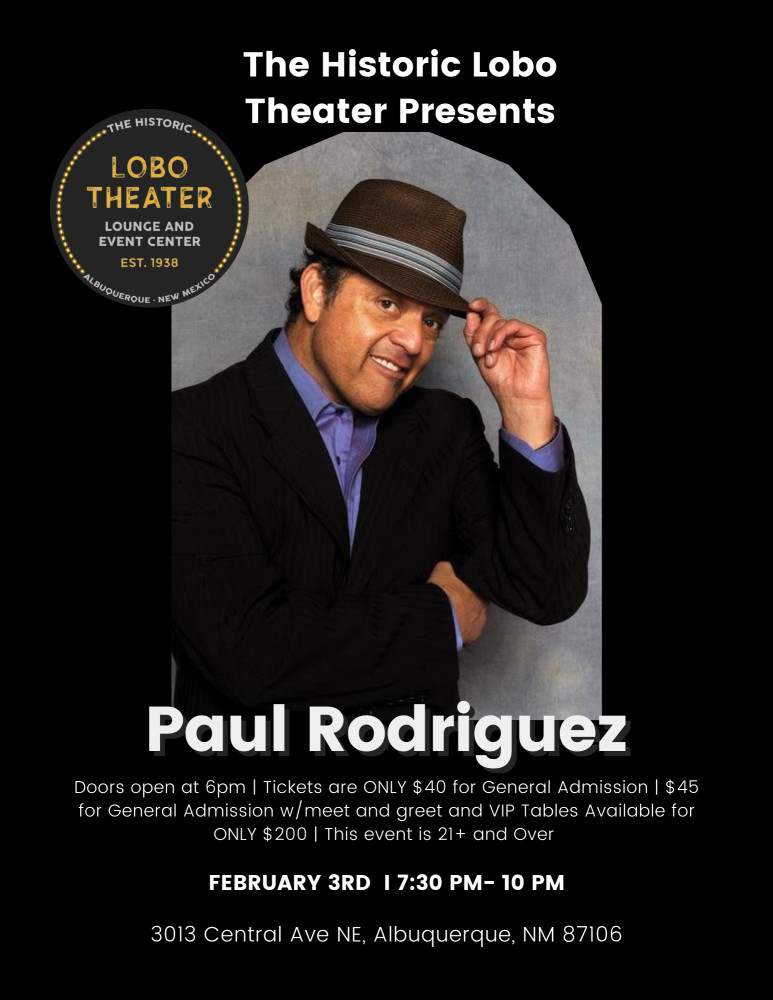 ---